Storage Warrior Blog
Auctions
Vinyl Records & Comic Books! Check out our latest online auction
It's March already, and this week we have an exciting comic book and vinyl record auction to bring you! Hundreds of great classic rock, jazz, pop and other titles, plus lots of key comic books and popular characters to add to your collection. Ready to bid? Click here, or read on to learn more about what we're auctioning off this time.
You know, comic books are kind of a thing here at Storage Warrior. If you've been with us for a while then you know that. Every auction has comic books, and we always throw something special in. Here's a sneaky key comic that we've added to this auction…first appearance of Squirrel Girl, Marvel Super Heroes Winter Special 1991 in NM condition! High grade copies of this book always sell for over $100, and this one has a starting bid of only $5!
Click here to bid in the auction now <<<<
The comic book part of our auction also has great titles like New Mutants 87 (first appearance of Cable), Wolverine 1 (who doesn't love them some Wolverine?), most of the Batman: Year One series, plus lots of Amazing Spiderman, Uncanny X-Men and so much more I can't remember it all, even though I took all the pictures 🙂
Oh yeah, and those vinyl records! WOW! They are actually the majority of this auction, and we've taken just a small selection of the thousands of records in the warehouse and put them up for starting bids of $5. You'll find all the big names here, from Jimi Hendrix to Led Zeppelin, Aerosmith to AC/DC, ZZ Top to Bob Seger, plus lots of great pop albums from icons like Madonna and Eurythmics. There's some obscure stuff, some jazz, some country (Johnny Cash anyone?) and plenty more. For audiophiles, this is going to be a really fun online auction!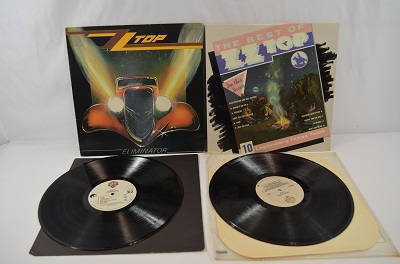 Maybe you already know how it works, but just in case, here's the lowdown:
You can bid in this auction until Wednesday March 23. Auction lots start ending at 7 pm PST and end every 15 seconds until everything is sold!
We use LiveAuctionWorld/iCollector as our auction platform, just like hundreds of auctioneers throughout North America. You'll need a credit card to register, but it's safe and secure, and you can use another payment method for your winnings if you like (we accept PayPal and cash on pickup).
YES, WE SHIP! Bid from home and we'll send your winnings to your house anywhere in North America. Or if you're local to Vancouver, you can pick up in person the day after the auction.
So what are you waiting for? Warm up those bidding fingers and have some fun! Click here to sign up and bid in our online auction.